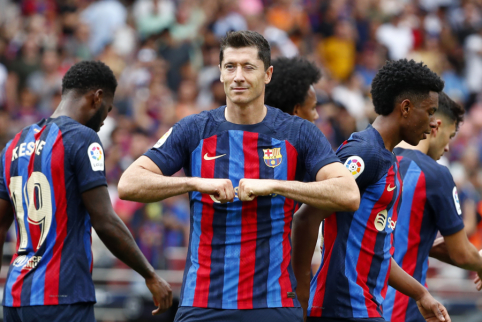 2022-09-17 19:14

© AP photo.

In Saturday night's game at home to Barcelona, ​​without major problems, beat Elche 11, who played almost the entire game in ten, 3-0.
The guests already created problems for themselves in the 14th minute of the match. Gonzalo Verdu saw a red card in front of him for the final error.
The Catalans have since taken complete control of the game and taken the lead in the 34th minute. After a pass from Alejandro Balde Robert Lewandowski sent the ball into the goal.
After 7 minutes, the second goal fell into the visitors' goal. This time it was Memphis Depay.
In the 45th minute, Elche Francisco Rodriguez, who lost his temper, was also sent off, so the visitors found themselves in a catastrophic situation.
Barca added another goal in the second half. Robert Lewandowski found a chance in the penalty area and added two goals to his account.
After this match, Xavi's men came up in first place at least for a while ahead of bottom side Real Madrid. Elche, meanwhile, has had a difficult start to the season and is currently in last place.