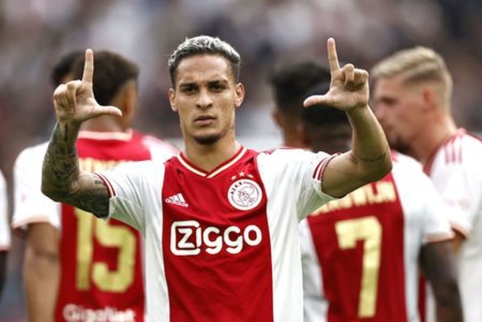 2022-08-28 15:00

© AFP photo

Manchester United have achieved their goal of signing Amsterdam Ajax striker Antony.
Athletic's David Ornstein reports that Manchester United are close to reaching an agreement with Ajax over the transfer of Antony. More than a week of negotiations has come to an end.
The Red Devils will pay លាន 100 million for the 22-year-old striker, including a bonus, according to D. Ornstein.
Antony has scored 19 goals and assists 16 times in the Eredivisie and Champions League in the last two seasons for Amsterdam.
The proposed transfer fee for the transfer of Antony from Ajax to Manchester United is understood to be in the region of លាន 100 million, including add-ons. @TheAthleticUK #MUFC # Ajax https://t.co/TP3poJJEmr

– David Ornstein (@David_Ornstein) August 28, 2022
The Brazilian striker has excellent ball control, dragging skills and long range shots to the midfield. Of course, the Brazilian is not a big fan of helping the team in defense.
However, the acquisition is a priority for Erik ten Hag after working with Antony in Ajax.
At the beginning of the transfer window, Amsterdam may have sold the striker for around លាន 60 million, but at the end of the transfer window the club only wanted លាន 100 million.
Midfielder Hakim Ziyech or AS Roma striker Justin Kluiver could replace Antony at Ajax.