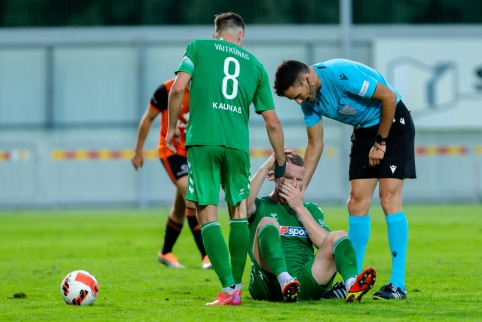 2022-09-20 14:59

Photo by V. Kuralavicius.

In early autumn the football club "Kaunas Žalgiris" received an addition on the coaching staff. He returned to the club after a five-year hiatus. Alex McCarthy.
Specialists from the UK were working at the "Kaunas Žalgiris" club at the beginning of the 2017 season, when he was assistant coach at the time Jonathan McKinstry.
Having worked in various English football schools, the national football teams of Rwanda and Uganda and Spain, the coach has added to the key coaching staff of the men's football team "Kaunas Žalgiris" and also assisting the "Kaunas Žalgiris" team. B also. Coach Dominykas Galkevičius will share his experience with "Kaunas Žalgiris" children of all ages in football school.
"I am happy to be back in Kaunas and to be a key team analyst and assistant coach of Team B. My new role allows me to spend more time training on the field while also giving my first team insights on strategy and their performance. "After returning to Kaunas, I found a team of coaches who worked hard, were open and knew their job, so I really wanted to contribute to the club's further growth." Galgiris.lt Said A. McCarthy.
Football fans can already see A.McCarthy in the team's recent matches, and the closest opportunity to do so during the selection window will take place on September 23rd. Galgiris will play against the Lithuanian U-21 national team at the Kaunas Žalgiris football stadium. The tournament will start at 3pm and participation is free.