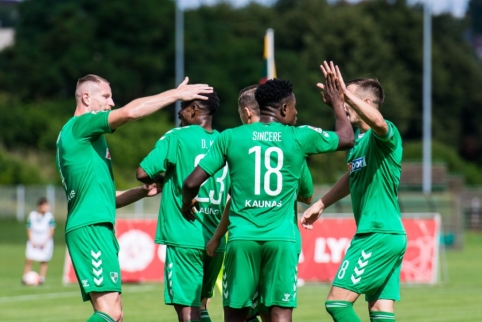 2022-09-04 19:50

© zalgiris.lt

"Kaunas Žalgiris" Football Club in the 25th round of "Optibet A League" beat Gargždas "Bangas" away from home with a score of 1: 0 (0: 0) and went on to win the match 7 times. .
In the match, the team had to do without Roko Garast, who lost his father on the day of the match. In his place Nerijus Mačiulis led the team.
At the beginning of the match, Gargždais was dominated by defensive football, so the players of both teams had a very hard time creating dangerous chances.
In the 39th minute, Kaunas created the best chance in the first half. Michael Thuique sent the ball into the penalty area, but Nerijus Valskis could not direct the ball into the net with a single touch.
An hour into the match, Zalgiris made a rude mistake in the middle of the field and the home team almost took advantage of that. At that time, Deividas Mikelionis saved the Kaunas from Robert Vēževičius' kick.
Kaunas Žalgiri finally scored the first goal of the match, which became the winning goal.
Gratas Sirgėdas, who appeared on the pitch after a substitute, set up a perfect pass to Michael Thuique in the 73rd minute, and the last goalkeeper beat the opponent's keeper. Pass the ball into the goal – 1: 0.
During the rest of the season, the Kaunas team took control of the advantage and brought three more points to the Kaunas.