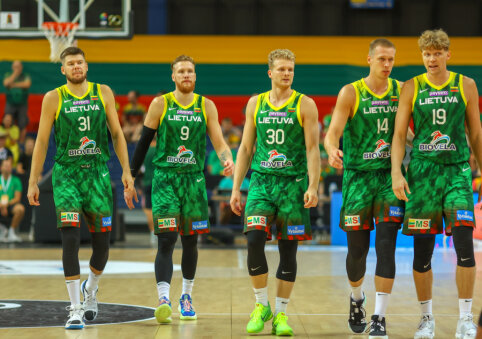 2022-08-24 14:32

Photo by P. Žukauskas.

The Lithuanian basketball team has completed a friendly marathon and will play two official matches before the European Basketball Championships for the 2023 World Championships.
On Wednesday (August 24), Kazis Maksvytis students will play Hungary, where the Lithuanians will also face the European Championships.
Lithuanian results
Prior to this match, the Lithuanian national team played 7 friendly matches and won all the matches.
The Lithuanian national team played its first two matches against the Estonian national team. Kazis Maksvytis' students confidently won the first match with a difference of 14 points (84:70). Indeed, the second match between them was even greater, and the Lithuanians won it by a fragile difference of two points (90:88).
In the next two matches, the national team tested the Finnish basketball player. The Lithuanians had no major problems with their opponents in either match and won two convincing victories (76:61 and 87:52).
The last two tests of the national team are the most serious against the world champions Spain.
The Lithuanians won the first match in Gran Canaria with 5 points difference (82:77) and the second in Vilnius – also after a hard fight, the Lithuanian team got Victory (78:76).
The Lithuanians played their last friendly against the Netherlands and won another convincing victory (94:68) and ended the friendly unbeaten run.
Hungarian results
Hungary have played a total of four friendlies, winning three.
Lithuania's future opponents played the first two games against Sakartveli and were able to win two tough victories (89:88 and 78:75).
In the third friendly match, Hungary met Slovakia basketball players who will not participate in the European Championships. . Hungary won the match 72:67 after a tough match.
The last test of the Hungarian national team before the official match was the most serious – the Croatian national team. Hungary did not have many chances in this match and lost by 20 points (64:84).
Match
Lithuania and Hungary have met to be selected for the 2019 World Cup.
The Lithuanians won the first match after a hard fight 80:75. Meanwhile, the second match in Hungary ended with a sad victory for the Lithuanian national team (73:50).
Lithuania – Broadcasting of Hungary
The match between Lithuania and Hungary will be broadcast on TV3 and online on TV3 Play and GO3. The match starts at 19:00.