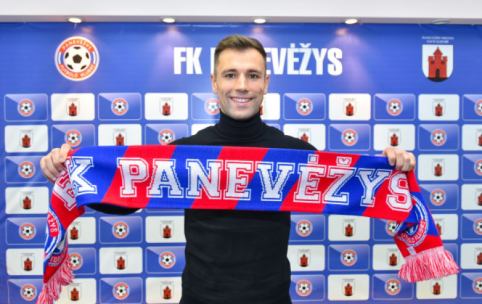 2022-09-05 14:03

Photo by fk-panevezys.lt.

The football club "Panevėžys" will start the fight of the last third champion in the "Optibet A league" this week. In round 26, Vilnius "Knights" will come to Panevėžys, who also wish to win a medal.
The club from the capital, coached by Pablo Villar, played very well. In the last 7 matches, there have been 2 wins, 3 losses and 2 wins. The Knights currently have 44 points from 27 games, winning 13, drawing five and losing nine.
Fourth-placed Vilnius have played twice this year. The first match between them ended in a score of 0: 0 and in the second match the victory was 3: 0 due to the correct attack of Roko Stanulevičius, Elivelt and Ernesto Veliulis.
Wanderson Melo, who was sent off in the previous game, could not help Panevėžius in the next game.
Before the first game of the week. fk-panevezys.lt The website spoke with Mitar Čukovići, who returned to the team after an injury in Moldova.
"When we played the second game against Milsami I kicked hard and could not continue the game. Fortunately nothing was broken, it was just a knock. The injury was part and parcel of the job. Ours, but it's really hard not to play and help the team.
I'm back against Banga, we got another victory, so I'm very happy. I feel good now, historically injured.
On Wednesday we will play against good opponents, we will play at home and we will try to win. It will be important to play with focus and focus from the first minute, as well as following the coach's instructions, I think the result will not disappoint us. My friend from Serbia plays for the Knights, we keep in touch and respect each other. I wish them all the best, but after the match between us, "said the Montenegrin defender.
The match of the 26th round between "Panevėžys" and "Riteria" will take place on Wednesday 7 September. The match starts at "Aukštaitija" Stadium at 20:00.