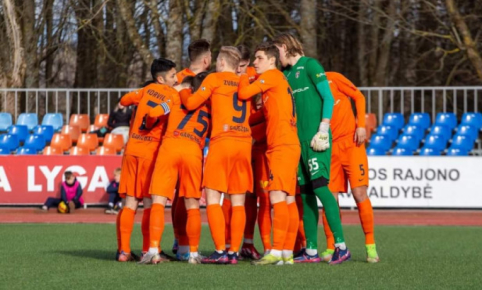 2022-09-21 11:46

Photo of alyga.lt

Brazilian works under Gargždas Banga coach who competes in Optibet A League Mandin HoWell known to Lithuanian football fans.
The retired footballer returned to Lithuania in 2007 and then represented Šiauliai. Mandinho later played for "LKKA and Teledema" in Kaunas, "Klaipeda", "Banga" and "Ekrane" in Panevėžys – this was Mandinho's last club in the "Optibet A League".
"Banga", the Brazilian player who assisted coach David Afonso and led the B youth team, spoke about his relationship with Gargžda.
"If I'm not mistaken, I first came in 2011, so in 2012. Gargžda is really special to me because this is where I learned the meaning of football city. It was fun to see the kids wearing banga shirts and backpacks to train, how people go to competitions and especially how they treat my family, most importantly my daughter.
It is the fans who inspire a certain passion for football in my daughter and that's what happens in Brazil you go to the stadium you develop it. "I always feel warm for this city and this club," said Mandinho.
In the "Weekly Interview" section, the Brazilian talked about working on "Ekrane" with Valdas Dambruskas, Lithuanian home football and "Bangas B".