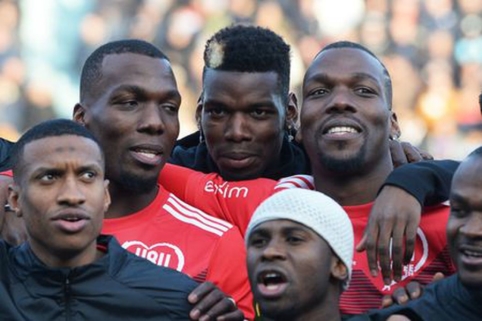 2022-09-15 14:50

AF AFP photo

Mathias Pogba, who slandered his brother Paul Pogba, had trouble with law enforcement.
Le Monde reports that Mathias Pogba has been arrested. This information was later confirmed by other sources.
Let us remind you that Mathias demanded 13 million euros from his brother Paul. Otherwise, a video of Juventus players using witchcraft to seduce French star Kylian Mbappe will be released.
Mathias worked with criminals all the time and even pursued his brother for a while: both in Manchester and in Turin. After Pauli signed a new contract with Juventus, Mathias sent the following message: "Now you will remember us."
In the shocking incident, the home of Paul and Mathias' mother was temporarily guarded by police for security reasons.
According to RMC Sport daily, investigators believe Mathias was the perpetrator and mastermind of the operation. Paul's brother was arrested along with four other men who denied all charges.
Meanwhile, Paul Pogba is injured and it is unclear whether he will be able to help France at the World Cup. At the beginning of the month, the midfielder was on the operating table due to a knee injury.