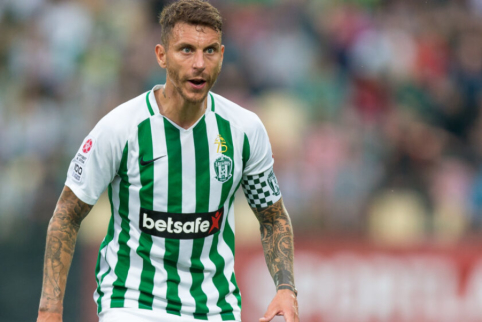 2022-09-16 19:33

Photo by E. Žaldaris.

"Zalgiris" coach Vladimir Cheburin and midfielder Nicolas Gorobsov said after the game with "Basel" that Zalgiris deserved more because they played well.
A single goal in the second half sealed the victory for several Swiss champions in a tough UEFA Europa Conference League match.
"I want to thank the fans for their support. At the beginning of the game, Basel wanted to take the initiative. We organized our game in such a way that it was important for us to find a place for our players. We had a good chance, we did not take it. Later in the match, the opponent controls the ball more. We tried to design the game in such a way that we could launch quick attacks and create dangers. We are at fault at high pressure. We took a pill. After that, we put maximum pressure, creating inconvenience for the opponent. There was an exit at the goal in the penalty area. But a goal that is not scored is a goal that is not scored. Need more aggression near the opponent's penalty area. Thanks to the players, they did a lot of good work. It will be necessary to analyze which episode we played incorrectly. The match was good for both teams. There are not many good opportunities. However, there are some chances, some do not score, "the coach summarized.
"Hard game. We did well. We had some good episodes. But teams like Basel don't need a lot of opportunities. They have good craftsmanship. We need to focus more on time. "We get the ball by choosing the offensive option. We have to make better decisions. But overall "The team did well. The result was not good. We have to continue to prepare for the next game," N. Gorobsov said.
When asked about the lessons after the first two games, both the coach and the midfielder were optimistic.
"We see the game here faster and more energetic. Players understand what to do on the field. And here we see that at a high level what is the value of an error. But be brave to Zalgiris players – they play well. It is not right to say that he failed rather than did well. "But it was not possible to score and this prevented the result," said V. Čeburin.
"We played well in the first game in Bratislava. We are playing in the European Conference League for the first time. Basel is a good and capable team in Europe. But today there is not much difference, just the results. This is a positive thing for us, we prepare well for every game. We did well. We walk the right path, we deserve more than nothing. But there are still four games to go. The journey is long. "If we continue like this, we will be in the mood to win more points," N. Gorobsov said.
Both do not agree that the results are consistent.
"We are ready for the game, we know what and how to do it. We had our chance, but we did not take it. The level of play is higher in the group stages. Of course, we are not satisfied with such results. However, it has already happened, "the coach reasoned.
"The impression is that we deserve more. Maybe score and draw 1-1. But they do not have many chances. Only one in the second half. They It doesn't take much opportunity to make a mark. We have to be good at attacking. We have to make good decisions. "Better when we are in the box. Then the difference will be smaller," he said.
When asked if Fabien Ourega had filled the gap left by the departure of Hugo Videmont, V. Čeburin replied: "Fabien feels good on both the wing and mid-wing. We try to give him space. If he started playing on his own, we would have benefited, but today Buff also played well in the midfield. We didn't control a lot of balls in the middle of the pitch. "Opponents control the ball more than in the defense."
Galgiris have not scored in any group matches so far, although we had a chance.
"We need to score, we really want it both in the first game and now. At this stage there are not many opportunities. Opportunity should be taken advantage of. Of course I want more opportunities. But be aware of all three opportunities. There may be 15, but none of them apply. It's an interesting issue. It would be better if there were fewer opportunities, but they would be used, "V. Čeburin thought.
Gorobsov also thanked the spectators who gathered at the LFF Stadium: "Of course I can say thank you. It is very important to feel their support. In a game like this, he is very much needed. It was great to be on the pitch and feel their support. The way they sing reacts to each episode. "I hope it will be like this until the end."
Next match on Sunday, August 18. "Zalgiris" will play at home with "Knights".