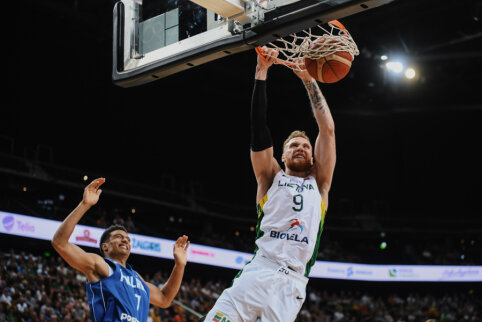 2022-08-16 21:36

Photo by ltu.basketball.

The Lithuanian national basketball team continues its preparations for the European Basketball Championship.
The Lithuanians have arrived in Gran Canaria and will play Spain on August 16 (Tuesday). In two days, the national team will meet again, this time only in Vilnius.
Lithuanian results
Prior to this match, the Lithuanian national football team played four friendly matches and was able to win all the matches.
The Lithuanian national team played its first two matches against the Estonian national team. Kazis Maksvytis' students confidently won the first match with a difference of 14 points (84:70). Indeed, the second match between them was even greater, and the Lithuanians won it by a fragile difference of two points (90:88).
In the next two matches, the national team tested the Finnish basketball player. The Lithuanians had no major problems with their opponents in either match and won two convincing victories (76:61 and 87:52).
Spanish results
Spain have so far played two friendly matches in preparation for the European Championships. Sergio Scariolo's students played both against Greek basketball players, one of the favorites of the Old Continent Championship.
In the first match in Greece, Spain did not have much chance of winning. Unstoppable by Gianni Antetokounmpo Spaniard lost 16 points (70:86).
The second match has already been held in Spain. Here the hosts could avenge Greece (87:80), who were not assisted by captain G. Antetokounmpo in that match.
Broadcasting of the Lithuanian-Spanish match
The match between Spain and Lithuania will be broadcast on TV3 and on the online platform TV3 Play. The match starts at 20:30.
We will update the results in this information during the meeting.