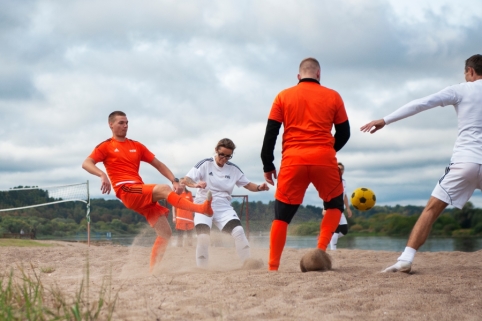 Date 18/09/2022 Time 18:00


Since 2010, the traditional "professional football" football tournament has included representatives of various professions such as police, lawyers, educators, coaches, health professionals, social workers, electrical specialists and others.
On September 18, pedagogical, electrical specialists, representatives of the administrative profession gathered at Zapyšky beach on the banks of the Nemunas River.
Participants tested their strength by playing 3-on-3 football on the sand against goals of unusual dimensions. A match consists of 3 quarters of 6 minutes each. Teams compete according to Fair Play rules, so decisions are made by the players of the team itself. At least one woman must play in the team during the match.
The first professional football match was held in a gym on an artificial football field, but six years ago when the event was first held on the sand in Kachergini in a corner of nature. The game has become inseparable from the game in nature. Therefore, this year I chose to host a football match on the banks of the Nemunas River, which is not only a spectacular sight, but also a historical venue in Lithuania – football organizer Martynas Karpavičius shared his thoughts .
After playing all the matches, it is clear that the winner of the contest is the representative of KTU engineering lyceum "Metu mokytojai", the second place went to "Automatika biuro" and the third place went to "NeBedarbiai". Of Ringaud. Teams are rewarded with cups and medals created by "Automatikas biuro" personal prizes.
In our workplace, we strive to have a united and harmonious team, so active free time is a way to have a great time with the team. Two years ago we participated in this football tournament and every year we look forward to it, even though we do not have football players in the team, but we like to show this game in a game that is not only for men No, but we also love showing this game in the game. Female colleagues are willing to join – said the director of the company Ramūnas Švedas.
Janė Farmonikaitė (KTU engineering lyceum "Teacher of the Year") was selected as the best player.
Raimonda Švedienė (Ringaudės NeBedarbiai) has become the most productive player.