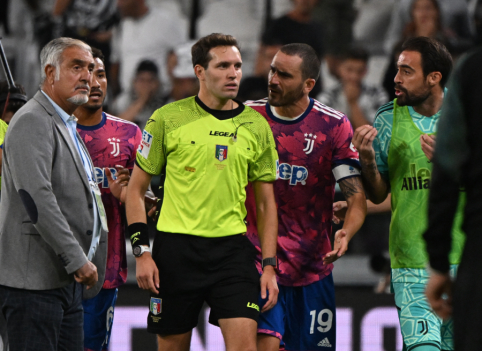 2022-09-12 11:02

© Reuters photo.

Juventus of Turin dropped two more points in the Italian Serie A title on Sunday.
"Senoji Señora" played 2-2 with "Salernitana" at home but everything was possible and it should end with a Torino victory.
In the 95th minute, Arkadiusz Milikas scored as it seemed at the time, the winning goal against Salernitana. Paul took off his shirt while celebrating the ball and I got a second yellow card for that.
As it turned out a moment later, A. Milikas received a red card for celebrating an unaccounted for ball. After a VAR inspection, it was decided that off-field Leonardo Bonucci was actively involved in the game, so the goal was not allowed.
Watching the replay during the game, one can agree with the decision of the VAR, but after the match, photos began to spread on social media, revealing the serious negligence of the VAR.
It turns out that the decision only looked at the players in the penalty area, as one of the Salernitana players was closer to the corner flag and closer to the line than any other player. This means that L. Bonucci is not outside.
It should be noted that this decision was followed by several confrontations on the pitch, after which three more red cards were shown.
This picture is wild. Juventus denied the winner at the last minute after this was missed by the VAR. #JuveSalernitana

Absolute disassembly. pic.twitter.com/aFI3yLdG4I

– Adriano Del Monte (@adriandelmonte) September 11, 2022